At Riverside we expect every child to wear school uniform every day. Parents have agreed and signed a commitment to this on entry to school and we value the support we receive from our parents. Even bears wear it…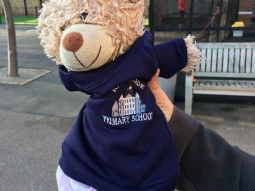 And to ensure that every child has a uniform the school is committed to supplying a "starter kit" of uniform at the start of each school year – all parents need to do is collect it from the office.
There are many reasons why school uniform should be worn, including:
it provides an inclusive team culture – pupils feel united, connected and respected
it is economic and convenient for parents – no morning debates and good value for money!
it means pupils can focus on learning – not fashion trends
it is safe, comfortable and practical – it washes easily and is hard-wearing
it influences behaviour positively – a professional approach to learning
it looks good!!
We try not to be too prescriptive – the two main points are navy blue and no logos other than the Riverside logo.
So, what does a Riverside uniform consist of:
a navy sweatshirt/jumper/cardigan (with/without the Riverside logo)
a white polo shirt (with/without the Riverside logo)
navy or dark grey trousers or skirt/pinafore dress
a blue gingham dress (for warmer days)
sensible shoes (flat, comfortable and secure)
That's it!
You can buy uniform from the school office (all with the Riverside Logo). All our uniform can be worn by boys and girls. We sell:
sweatshirts
cardigans
polo shirts
gingham dresses (no logo)
coats with a fleece lining
grey 'school' shorts (no logo)
We also have Riverside PE kit that comes in a handy bag for those who prefer to wear this for PE lessons (not compulsory).
If you would rather buy uniform from local retailers that is fine too – just make sure you remember the two main points – navy blue and no logos!
Alternatively, we have some second-hand uniform that parents hand back when their child grows into the next size – just ask at the office and we will see what we can do.
We believe we have adopted a sensible approach to wearing uniform and expect every child to come to school with a positive learning attitude and proudly wearing our uniform. All our pupils are excellent ambassadors for the school and local community.
There are, of course, some days when a different type of school clothing should be worn…but there are letters to tell us when that is!