We all want our children to be happy and safe and we take steps every day to make sure of that.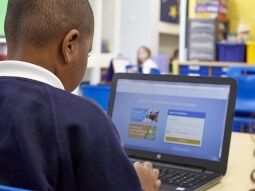 As technology develops faster than ever before, online safety is as important as all the other safety measures we put in place for our children.
Quite often the main problem for parents (and all other adults, including teachers) is that our children know more about technology than we do. We haven't always kept up-to-date with the latest sites, including social media, so may not be confident talking about it to children.
For support in discussing online safety there are a number of helpful websites that we can go to and there are links at the end of this page to go to for advice and information.
To get started, here are a few key points:
have an open and honest conversation regularly
create a family agreement
look at accounts (gaming, social media, email)
play and use the internet together
know how to report and block sites
At school, pupils will discuss online safety and we are committed to providing a secure platform for our pupils to use the internet. We have rigorous filters in place to block inappropriate sites and we listen to the experts – the pupils themselves!
For more information on this important safety topic, with regular updates, please click on these links:
NSPCC