Well, we made it through and now we can sit back and enjoy the holiday – school is now closed for children. Over to you parents now – at least there's no remote learning to navigate!!
The Music project went ahead last week for those who have signed up. This was run by the Southwark Music Service and Roseanna led the project – thank you to all who gave up their time to make this happen. We even had a mini concert including a song written by the children!!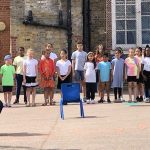 The traditional goodbye to the Year 6 ended as it always does – it was sad to see them go and saying goodbye to the families we have known for many years was tough to take. But seeing them all squelch home softened the blow! Their new schools are lucky to have them.
I would just like to take this opportunity to thank you all, not only for the amazing gifts and comments you have sent to us (you know how to spoil us!), but also for your undying support in what has been a challenging year.
So…see you on 2nd September, although I have no doubt I will come across lots of you around Bermondsey and Rotherhithe in the meantime – let's hope the weather stays kind to us.
Take care and stay safe.
Jose